Ensure correct and complete payments under value-based reimbursement and Medicare Advantage programs.
THE ISSUE: Complete and robust diagnosis coding has never been as critical to a medical group's success as in today's HCC coding world—yet electronic charge capture in the EMR and clinical documentation improvement (CDI) initiatives aren't enough to ensure success. CMS has mapped approximately 9,500 individual ICD-10 codes to 79 Hierarchal Condition Categories (HCCs). Under pay-for-value programs, payers rely almost exclusively on these codes to project the costs of treating your patients based on relative health risk. If the diagnosis information on your insurance claims isn't accurate and complete, the HCC coding won't be accurate, either—and you won't be properly paid for the cost of caring for your patients.
THE SOLUTION:
To help ensure appropriate HCC coding, RCxRules automatically assesses the HCC history of patients before they arrive for scheduled appointments, alerting providers and care coordinators when individuals require special attention. RCxRules then reviews 100% of the diagnosis codes coming out of your EMR, in real time, to ensure that the expected HCC codes get captured—and flags any encounter that lacks the appropriate diagnosis specificity, so your coders can review and correct it.
Instead of manually reviewing every encounter, your coders can focus only on those that actually need to be corrected.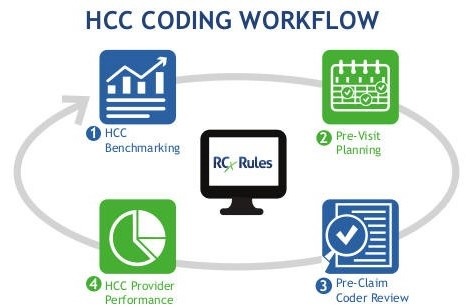 And by flagging inaccurate HCC coding, RCxRules also helps your organization educate providers on improving their clinical documentation and their understanding of diagnosis coding.
RCxRules helps you meet the requirements of today's pay-for-value programs, including:
Medicare Advantage Plans
Accountable Care Organizations (ACOs)
Comprehensive Primary Care Plus participants
MACRA/MIPS Programs
RCxRules contains the complete set of CMS Diagnosis coding rules and the full mapping of ICD-10 codes to the 79 Hierarchical Condition Categories, ensuring that clinical encounters have the appropriate and specific diagnosis codes necessary to derive an accurate HCC score.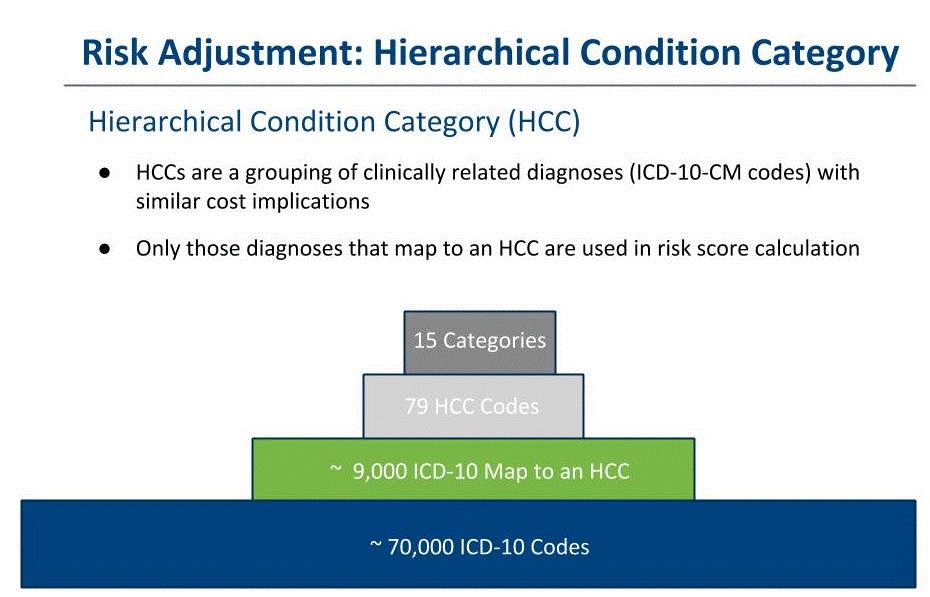 The RCxRules HCC Coding and Diagnosis Specificity module:
Evaluates upcoming appointments against patient's diagnosis history to identify patients with chronic conditions needing extra attention—giving your providers and care coordinators time to review and prepare for upcoming visits and ensure appropriate evaluation of all conditions.
Evaluates in real time every ICD-10 code on encounters coming from the EMR against the patient's diagnosis history—and alerts your coders to any discrepancy.
Makes sure that chronic conditions requiring annual updates are flagged for capture at least once every calendar year.
Checks whether the severity levels of a patient's HCC codes have changed year-over-year and alerts coders whenever this occurs.
Tracks all Diagnosis Coding patterns for reporting and quality purposes.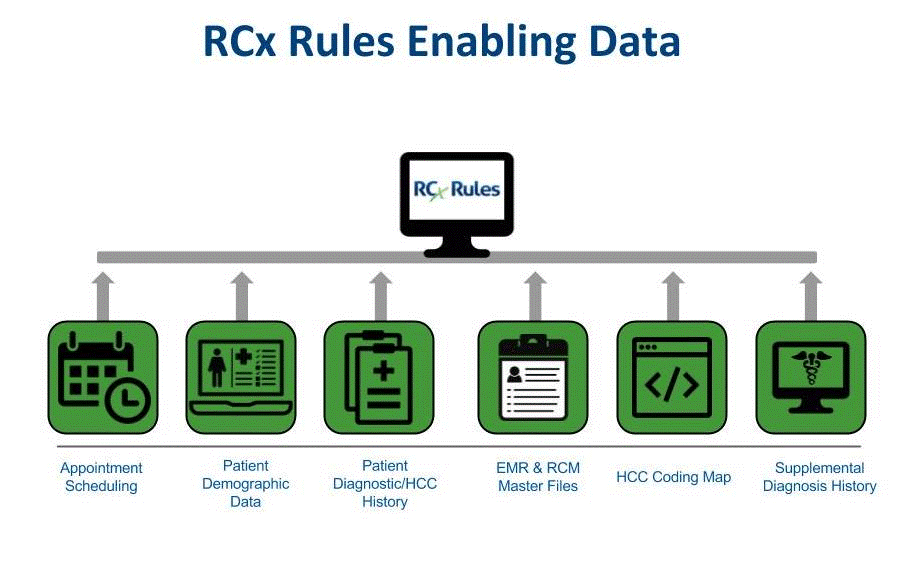 Let's face these challenges together. To learn more about what RCxRules can do for your organization, click here.