Leverage the highest-quality patient demographic data possible.
THE ISSUE:
With physician consolidation accelerating and hospitals acquiring more and more physician groups, the necessity for electronically exchanging patient demographic data increases every day. Although this electronic exchange of patient information is expected to improve efficiency, if the data is not clean and accurate it can create as many problems as it solves.
THE SOLUTION:
Now it's easy to identify and correct missing insurance information while minimizing duplicate patients and reducing instances of erroneous data overriding accurate data.
Designed to pre-process patient data in demographic interfaces, RCxRules' robust rules engine and automated review process deliver the highest-quality patient data possible—while minimizing the need for your staff to manually review data on the front end and correct data on the back end.
The RCxRules Patient Demographic Data Quality Module:
Checks for duplicate patient accounts
Corrects insurance codes via robust translation tables
Checks valid patient relationship to insured
Checks and fixes policy numbers
Deletes unnecessary insurance information
Corrects patient address problems
Cross-maps patient relationships from different systems
And more
Get Clean Patient Data with RCxRules: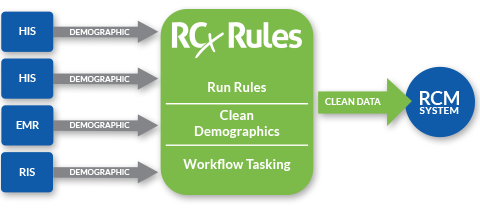 Let's face these challenges together.
To learn more about what RCxRules can do for your organization, click here.