Some organizations take the position that HCC Coding is exclusively the physicians' responsibility. We disagree, as doing this well, takes a village.
There's no question that physicians play a critical role in HCC Coding in documenting patients' conditions each calendar year; but, the complexity of coding should not be left on their shoulders alone.
There are 72,184 ICD-10 codes, 9,757 of which map to 86 HCC conditions with 19 varying categories. There are 429 Dx codes associated with Diabetes alone! With everything providers have on their plate from full schedules to quality measures, meaningful use, clinical documentation, and most importantly patient care and satisfaction; expecting them to also be well versed in every single diagnosis code seems unrealistic.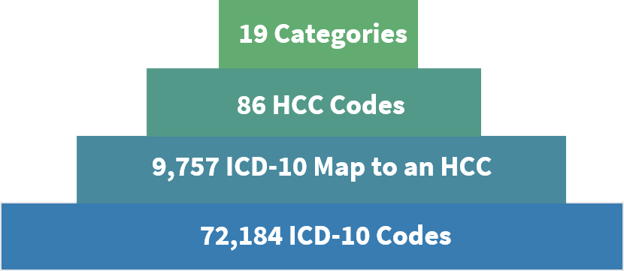 To put this in perspective, in a fee-for-service world, data shows that 50% of encounters leaving the EMR need a diagnosis or procedure code adjustment prior to being in a payer-ready state.* Which is why the typical revenue cycle management team has a charge scrubber or rules engine to automate the review of encounters to ensure accuracy, paired with a dedicated team to help translate the provider data into payer-ready claims.

Medical groups would never let a patient encounter leave the EMR and go directly to the payer without the revenue cycle management team reviewing and making corrections, so why would we do this in the value-based world?
If you're just starting with value-based contracts, you may be thinking it's not realistic to have a large team of coders. However, just one HCC coder with the right charge review automation software can have huge impact (see how The South Bend Clinic improved overall RAF accuracy by 20%, earning more Medicare savings).
Let teams do what they do best. Allow physicians to focus on great patient care, addressing HCC conditions and documenting the care in the EMR; and, let coders do what they do best, ensure proper coding and correct claims before they go out the door. If you do this, we guarantee you'll start seeing successful results.
Check out our webinar, The Secret to RAF Score Improvement (Your RCM Team) to learn more on how large medical groups improved RAF scores by replicating revenue cycle management processes for success in value-based contracts.

*Results on file with RCxRules