This year's AMGA annual conference (#AC2019) was as entertaining and informative as any healthcare conference we have attended. Between Dr. Zubin Damania (better known as his alter ego ZDoggMD), Chris Scalafini (COO from CareMount Medical and AMGA Chair-Elect), and Dr. Marty Makary, there was no shortage of original content, laughs and thoughtful comments about the current state of healthcare.
ZDoggMD, who approaches healthcare education and awareness in a unique and refreshing way, shared his experiences as a physician, failed entrepreneur (his Turntable Health in Las Vegas closed their doors in 2015 due to unforeseen changes in government policy) and entertainer. He took the path less traveled to arrive where he is today—training as a physician, working as a hospitalist, trying his hand at a start-up and starring in Weird-Al inspired, educational videos to bring awareness to taboo subjects, such as end of life care for patients. See video.
Chris Scalafini surprised the crowd as he entered to Queen's "We are the Champions" playing on the big screen. His message was simple—"we (the AMGA membership) are the champions" and we must continue to lead the country towards achieving the triple aim of improving the individual experience of care; improving the health of populations; and reducing the per capita costs of care for populations. The AMGA membership has the scale to do this—treating 1 in 3 Americans. To achieve the triple aim, Chris spoke about three areas of focus:
Value—AGMA must continue to lead the way in value-based care
Technology—Identify how to use technology to make physicians more efficient (i.e. focused more on patient care than clerical tasks)
Consumerism—Follow in the footsteps of consumer-centric disrupters that engage patients where they want to be met (think of Netflix, Uber, Airbnb and Amazon)
The final speaker, Dr. Marty Makary, is a surgical oncologist, New York Times bestselling author and Johns Hopkins health policy expert. Dr. Makary posed this question to the crowd—"are we measuring quality effectively?" Measuring quality has created a reporting burden for physicians who are spending an increasing amount of time as data entry technicians and medical coders (see picture below of Dr. Makary's inbox filled with coding inquiries).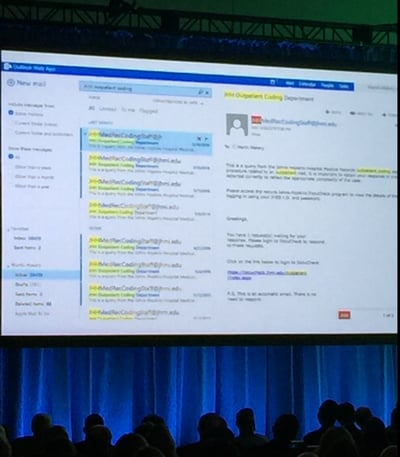 Dr. Makary also spoke about the "crisis of appropriateness"—in other words the proliferation of unnecessary care, tests, prescriptions, etc. Several examples were listed, such as unnecessary diagnostic tests, femoral stents, and opioid prescriptions.
The three speakers would all agree there is room for improvement within our healthcare system, with the common theme being that patient care is at the center of every research project, music video or strategy intended to bend the cost/quality curve. AMGA continues to be a leader in advancing high performing health and supporting their members (many of whom are physicians) in providing the best quality care for patients throughout our 50 states. AMGA's Annual Conference 2019 set the stage for the next big AMGA conference, the Institute for Quality Leadership (IQL), which we are excited to attend in September.