HCC Coding: A Shift in Reimbursement Mindset
CMS first implemented the Hierarchical Condition Category (HCC) risk adjustment model in 2004 as the methodology to risk adjust Medicare capitation payments to private health insurance companies offering Medicare Advantage plans. Since then, the HCC model has been refined and its utilization expanded to include the risk adjustment of patients in a variety of value-based reimbursement plans, including ACOs, Direct Contracting (CMS), Comprehensive Primary Care Plus (CPC+), and many others.
HCC coding is essential to a medical group's financial success. If HCCs are documented correctly, it creates a more complete picture of the complexity of a patients' health. Additionally, it often leads to appropriately higher reimbursement to cover the costs of treating patients under value-based programs.
HCC Model Structure
To identify risk adjustment scores and the conditions that predict future healthcare costs, HCC models follow a hierarchy, starting with ailments and conditions documented in the patient's medical record, which are translated into a specific set of ICD-10 codes. Roughly 13% of these ICD-10 codes that highly correlate to health status and cost are mapped to HCC codes across 19 categories, as demonstrated in the CMS HCC model v24- 2020 below.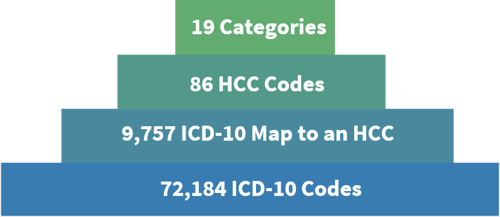 ICD-10 Diagnosis Codes
The ICD-10 (International Classification of Diseases, Tenth Revision, Clinical Modification) classifies every diagnosis a physician notes in a medical record, including symptoms and procedures. The system is based on the International Classification of Diseases published by the World Health Organization.
HCC Codes
9,757 ICD-10 codes map to HCC codes, which represent a specific medical condition. Hierarchies are imposed among related condition categories, mapping them to HCC codes. The HCCs, together with demographic and program information, are used to determine a patient's risk adjustment score. These RAF scores are then used to predict next year's (prospective risk adjustment) or this year's expenditures.
Condition Categories
Condition categories describe major disease categories, such as diabetes or chronic obstructive pulmonary disease (COPD). The table below illustrates an example of how ICD-10 codes and HCC values are assigned to a specific disease category, diabetes in this case.
Category
Hierarchy (3 Levels)
Specific HCC Values
Number of ICD-10 Codes Mapped
Diabetes
Diabetes 1
17 - Diabetes with Acute Complications
23 ICD-10 Codes
(Ex: E11.10)
Diabetes
Diabetes 2
18 - Diabetes with Chronic Complications
400 ICD-10 Codes
(Ex: E11.21)
Diabetes
Diabetes 3
19 - Diabetes without Complications
6 ICD-10 Codes
(Ex: E11.9)
5 Things to Know About HCC Coding
1. More than 9,700 ICD-10 diagnosis codes map to CMS's 86 HCC codes.
The latter represent categories of chronic and acute health conditions (such as diabetes and congestive heart failure). HCC codes are used to project healthcare costs for patients during current and future coverage periods.
2. HCC coding uses a patient's historical diagnostic coding history to predict future utilization and risk.
This methodology creates a RAF score for a patient that reflects his or her relative health or sickness. With Medicare Advantage, this score is then multiplied by a base rate to set the PMPM capitated reimbursement for the next period of coverage. Aggregating this across an entire payer-defined population determines the fixed revenue associated with the population.
3. CMS requires that every patient's record includes documentation by a provider to support the diagnoses.
Providers must therefore thoroughly document each patient's health conditions at every visit and assign one or more ICD-10 codes to be submitted on any claims.
4. Risk scores and HCCs are assessed annually.
Documentation that supports the presence of a condition and includes the provider's assessment and/or plan for managing it must be provided at least once each calendar year for CMS to recognize that the patient continues to have that condition.
5. A patient may be assigned multiple HCC codes and certain disease combinations that may elevate the RAF scores.
The specific calculations CMS uses to establish a patient's RAF score can be complex. However, the primary role of the medical group is to ensure the patient's record has the complete, accurate, and specific Dx code (ICD-10) that reflects the full picture of the patient's health. A patient with a poorly documented diagnosis history will always look like a healthy patient to CMS. Accurate coding, supported by robust documentation, will ultimately lead CMS to calculate the correct RAF scores for the patients.
Medical Record Documentation Tips
To support accurate documentation and coding, healthcare organizations should make sure to address the acronym MEAT in the medical record for every patient encounter, which stands for:
Monitoring the patient's symptoms and any signs of disease progression or regression
Evaluating the patient's response to medication and treatment
Assessing ordered tests and reviewing patient records
Treating a patient's symptoms with medications and therapies
Since every diagnosis reported must be documented with an assessment and plan of care for treatment, documenting the entire MEAT process in the patient's medical record is important for accurate risk scoring and compliance.
Educating your physicians and coders on best practices will help ensure accurate data and appropriate reimbursement. Essentially there are two important aspects of HCC coding: analyzing the physician's documentation to identify reportable conditions, and accurately assigning codes to these conditions. Some best practices include ensuring your providers document:
All cause-and-effect relationships (i.e., linking complications related to a disease or injury)
All current diagnoses as part of the current medical decision-making process for every visit
All diagnoses that receive care and management during the encounter, including notes on chronic conditions at every visit if the patient receives treatment and care for the condition
Only include "history of" or "past medical history (PMH)" diagnoses when they no longer exist and are resolved
Once documentation is complete, organizations should ensure their HCC coding professionals are following the Official Guidelines for Coding and Reporting from CMS. The guidelines provide direction for many of the coding issues that risk adjustment coding professionals struggle with. Many progressive organizations use a concurrent review process, where coders review documentation and diagnosis/HCC codes coming out of an EMR to ensure the diagnosis/HCC codes are supported. This process ensures accurate and appropriate HCC codes are included on the initial claim sent to the payer.
For value-based care models to be successful, providers and coding professionals need to focus on what they do best. While providers deliver excellent, quality care supported by thorough documentation, coders have the expertise to map those notes to the proper diagnosis codes by following the CMS guidelines. Doing so not only helps healthcare organizations provide a quality patient experience, but it also ensures the organizations receive proper reimbursement for the care provided.
Healthcare organizations may benefit from solutions that automatically review diagnosis codes coming out of the EMR to ensure correct HCC codes are captured. Technologies such as these enable you to efficiently integrate concurrent HCC coding review into your existing fee-for-service coding review process. Contact us to learn more.